Don't get me wrong, I love me some Passover, but after three or four days I start to wonder why we've been doing this for the past 3460 years.
The whole no grain business is always harder than you expect–no matter how many times you do it–especially when you remember that your drinking is pretty much limited to Manischewitz and slivovitz. But thankfully our friends at Distillery No. 209 have been producing a Certified Kosher for Passover (henceforth 'K4P')  gin and vodka since 2010 that we can now use to spike our seders.
So if you think the four cups aren't going to be enough, here are six cocktails to get you through the the ten plagues and more this Passover!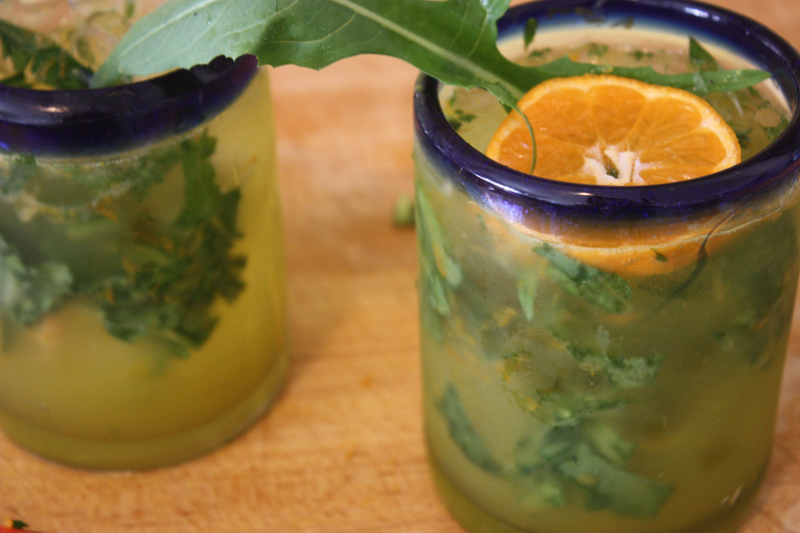 Chazeret Chiller
1/4 cup Roughly Chopped Dandelion Greens (leaves only, omit the stems)
1 Clementine
1 Lime
1 oz Agave Syrup
2 ozs Distillery No. 209 K4P Gin
Club Soda
Fill shaker 1/3 of the way with crushed ice and clementine zest. Juice the clementines and limes into the shaker and add in the agave syrup and dandelion greens. Muddle and pour in the gin. Shake well before straining into a cocktail glass of fresh ice. Top with club soda.
Bloody Maror
2 ozs Distillery No. 209 K4P Vodka
4 ozs Tomato Juice
1 oz Fresh Lemon Juice
1 tsp Prepared Horseradish
2 dashes Hot Sauce
2 dashes of K4P Worcestershire Sauce
1 pinch celery salt
You know the drill for this one.
Charoset Punch
2 ozs Distillery No. 209 K4P Gin
1 oz Apple Cider
1/2 oz Fresh Lemon Juice
1/2 oz Honey
Shake all ingredients over ice, and then strain over ice into a rocks glass. Garnish with an apple slice and cinnamon.
Karpas Cocktail
2 oz Distillery No. 209 K4P Gin
2 sprigs of Parsley  (leaves only)
3 drops Cider Vinegar
Combine all ingredients in a shaker with ice. Shake gently to bruise the parsley. Strain through into a chilled cocktail glass. Garnish with a single parsley leaf.

Z'roa-tini
2 oz Porto Cordovero Port
1 oz Distillery No. 209 K4P Vodka
1/2 oz Cranberry Juice
Combine in coupe cocktail glass.
**I couldn't in good conscious give you a shank-bone cocktail, but this one will certainly have you contemplating the blood of the pascal lamb (also suitable for Halloween parties).
Beitzah Fizz
1 oz Club soda
2 oz Distillery No. 209 K4P Gin
1 oz Lemon juice
1 oz Simple syrup
1 Egg White
Add club soda to a Collins glass and set aside. Add remaining ingredients to a shaker and shake without ice for about 10 seconds. Add ice and shake well. Double-strain into the prepared glass.
חַג כָשֵׁר וְשָׂמֵחַ
Azizen Pesach
Happy Passover!